my 2012-2013 collection
Since I was little(around 7 years old), I've been collecting lot of collectible items such as stamps, coins(Malaysia 1 cent coins; no longer used nowadays), prepaid top-up cards, keychains and etc. I do not have a special storage for these items, I just put them in a small box and keep them safely inside the cabinet.
Basically, I love keeping the Malaysian 1 cent coins because of the bronze color. For some people, they think it doesn't have value and they don't wanna keep them inside their purse/wallet(when it was still been used). I don't have much foreign coins excepts those that I got from friends or I just randomly found them.
Starting from 2012 until 2013, I went to Japan, Indonesia, Singapore and Thailand, this became my turning point when my hobbies of collecting items blossom again. Yeay!!
Let's first started with my Japanese coins. During my first month in Japan, I didn't know how to use 100 yen, 50 yen, 10 yen and even 1 yen, so basically I will just use banknotes(1000 yen) eventhough the price is only 180 yen. >_<
the front;(value, leaves and some Japanese characters)
the back;(illustration of shrine(Byodo-in temple), flowers and Japanese characters)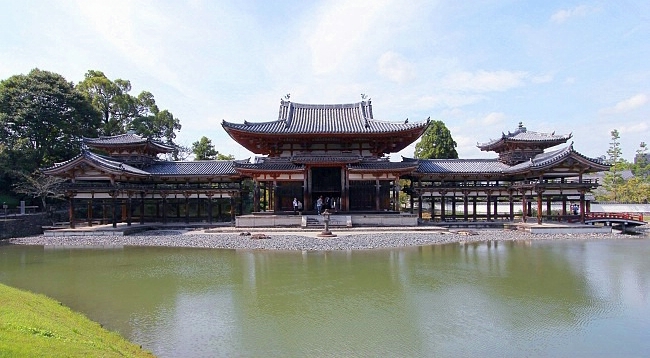 the Byodo-in Temple illustrated on 10 yen Japanese coin
From all of these collection, I love the 10 yen and 50 yen because of their design(hole in the center) and the color(bronze). I wish I can go to Byodo-in temple, the place looks amazing. In Japan, there are lot of vending machines which means coins are widely used but you cannot use 1 yen though, I'm not sure whether 10 yen is acceptable or not.
Next is Indonesia's coins. I went to Indonesia last year, so I still have some Rupiah(Indonesia currency) left. I personally think, coins are not widely used, it was so hard to get them. Most of Indonesian people(i think) use 1000 Rupiah banknotes which is equal to USD 0.08 cent (currency converter). These collection of coins I only got when the taxi driver gave me the change.
the front;(value, flowers, bird, Rupiah(Indonesia currency))
the back view(the symbol;garuda, Bank Indonesia/Indonesia Bank and year it was produced)
garuda;
a large mythical bird with eagle-like features(national emblem of Indonesia)
Next is coins of China, these China's coins I got when I first been asked for private swaps through Postcrossing by LiLe. When I first opened the card inside the envelope, I was so excited to see them.
front view(number(value), Chinese characters and year it was produced)
back view(symbol;flowers and some words writing in English)
The last one is from Thailand, I only have one. (I paste the back view of the coin on the same layout). I love the illustration both on the front and on the back.
the front;(The King of Thailand
features King
Bhumibol Adulyadej
with some thai's character)
the back;(temple;Wat Phra Sri Rattana Satsadaram and some thai's character)
Wat Phra Sri Rattana Satsadaram; illustrated on 1 bath thailand's coin
If you are interested to collect coins from Malaysia, do tell me on comment section below, maybe we can do swaps. >-<